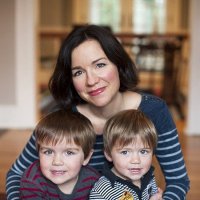 Alice's love of pattern and color led her to pursue an art degree from The Rhode Island School of Design.
After graduation, she headed west to design scarves in Berkeley, CA. Later she landed back on the East Coast designing for Echo scarves. Lucky for us, 11 years ago she started designing for Timeless Treasures!
Alice loves the creativity of the quilting industry, both in the wide variety of designs that she works on, and seeing them brought to life by quilters and sewers.
When Alice isn't designing, she's spending time with her two young sons, Rowan & Liam, and her photographer husband, Scott.